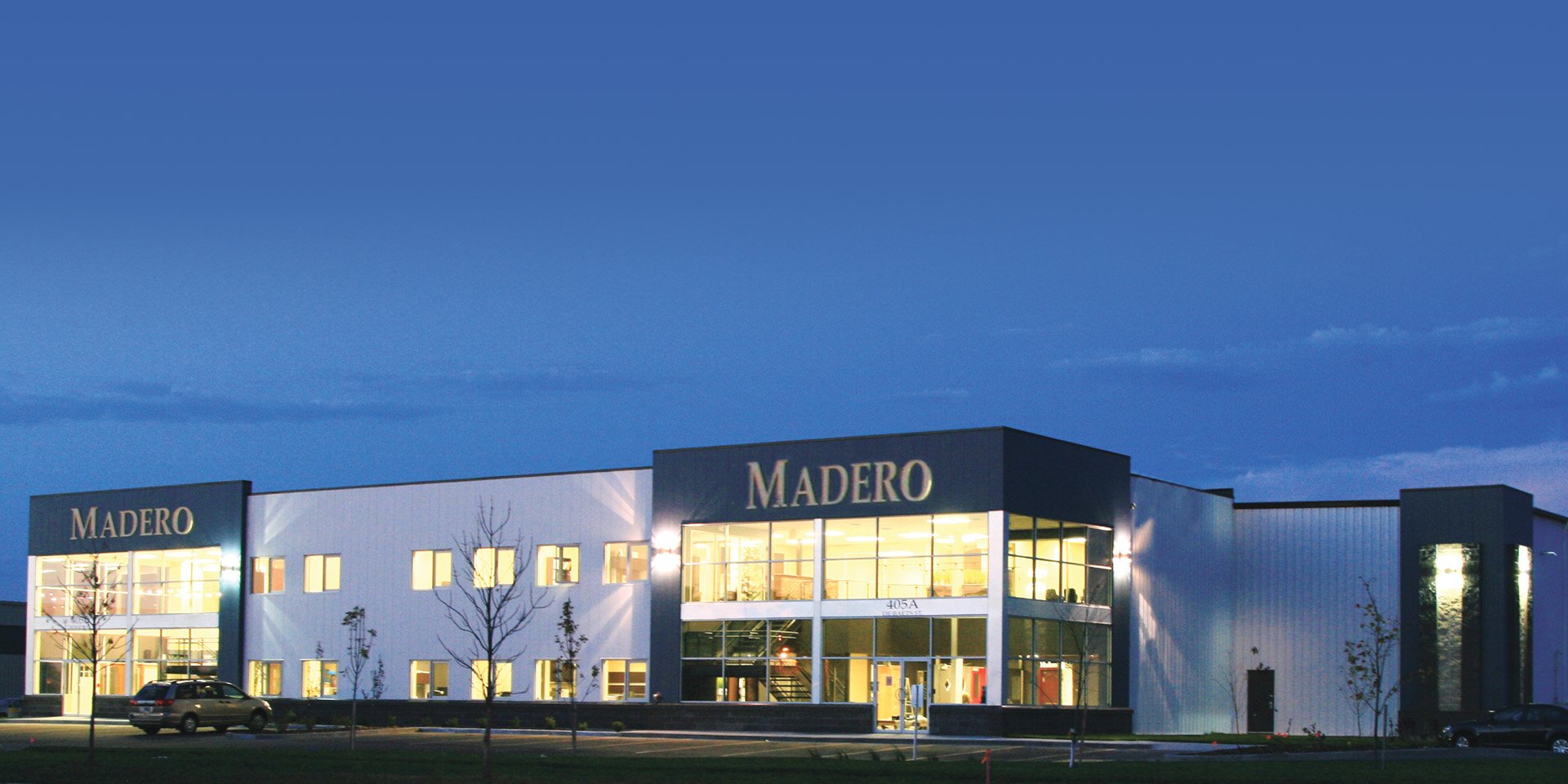 Discover Madero
Madero is a leading manufacturer and distributor of residential and commercial doors and hardware, from Western Ontario to British Columbia.
The Madero Story
In 1982, Madero Distribution was created to distribute quality window and door components to leading manufacturers. Today, Madero proudly serves Central and Western Canada with locations in Calgary, Saskatoon and Winnipeg. Proudly partnering with some of the best names in the industry, Madero brings to market the manufacturers found on this site. Madero's business partnerships are made with careful consideration in order to supply the quality and selection we are proud to stand behind.
Since its conception, Madero has continued to grow and evolve. Exclusively selling door and hardware lines, Madero provides customers with the ability to purchase doors, frames, and hardware for architectural, commercial, or residential applications. Madero offers services that include in-house machining for fire labeling of wood 20, 45, and 60 minute doors and frames. Fire labeling and welding of commercial steel doors and frames is available as well.
For residential applications, Madero provides an array of French doors, stile and rail doors, and moulded panel doors as well as a variety of MDF mouldings and locksets.
The Madero name is proudly used on our residential steel and fiberglass program. We fabricate several lines of door systems with quality being our main focus. Madero stands behind its name and products and is currently the leader in the use of fiberglass and steel doors in wood or composite frames.
Commercial projects are supplied with products from a variety of leading manufacturers. Our in-house technical support allows for our customers to supply commercial jobs with a comprehensive list of items.
Madero distributes throughout Central and Western Canada. With a fleet of 53' semi vans and numerous smaller vehicles, delivery programs are available.
Madero proudly remains a Canadian family owned and operated business and supports both vendors and customers with the same high regard. Please visit us often and enjoy the many products we can supply you with.

Company History
Family businesses all start in a similar way. In our case, in 1947, the Konopaki brothers started a small millwork business in historic Moose Jaw, Saskatchewan, Canada. The primary focus was on window and door manufacturing. As time went on and the business grew, they created a small distribution warehouse in Saskatoon, Saskatchewan and called it Sasko Products.
The doors were opened in 1982 in a small warehouse with a staff of three. In 1996 Lynne Fafard, daughter of Walter Konopaki, was hired to act as Branch Manager. At the time, the door industry was in a major upheaval on the prairies and Sasko Products had to be reborn with new vendors and new products.
During the next eight years the staff grew to 20 and an additional warehouse was opened in Calgary, Alberta. Two prefabrication shops were opened, welding shops were added, and the commercial steel division came into being. Emphasis on the door and hardware industry became prominent and window distribution slowly faded off.
In June of 2004, Lynne and Ken Fafard purchased Sasko Products outright separating.
Today, three locations exist in Central and Western Canada and Madero has searched the globe to find the best in door system components. Madero provides timely and quality craftsmanship for a variety of products. With an extensive customer base in the four Western provinces, Madero continues to evolve and adapt but has never left behind their strong focus on sound management, effective logistics, and impeccable customer service.
Everyone says it, but we have lived it. Industry obstacles, growth restrictions, and day-to-day business challenges – we have persevered through them all. And believe us, we are very proud of our success!