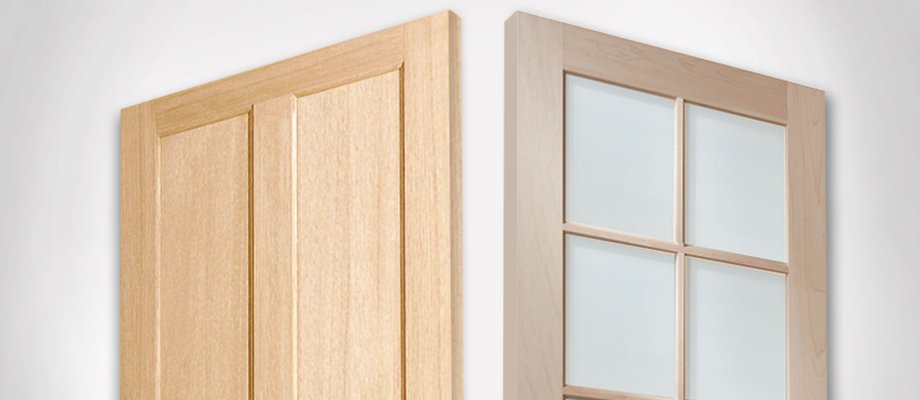 Find out About:

Stile and Rail Doors
What exactly is a Stile and Rail door? Are you familiar with all of the terminology, components, choices available and how each stile and rail door is crafted? If not, you will after reading this post.
Stile and Rail Doors – What you need to know
When designing, specifying, estimating or ordering Stile and Rail wood doors, it is helpful to have a thorough understanding of the component definitions. What is a mullion or a muntin? What is the difference between sticking and bead? What about the panel options – which is more costly? This post will answer those questions and more.
First, let's begin with the basics:


Stiles are the upright or vertical outside components of a door which can be of solid wood or veneered construction.

Sticking holds the panels in place and we offer four standard profiles for customers to choose from. Sometimes sticking and bead can be confused. Sticking is fixed to the stiles and cannot be removed from the door. Bead, on the other hand, is offered loose on one side or two.

Rails are the cross or horizontal components of the door and they include the bottom rail, top rail, lock rail and intermediate rail. Lock rails are also known as cross-rails.

Panels are made of solid wood, plywood, or composite material and they fill the frame formed by the stiles and rails of a door.

Mullions are the upright or vertical components which are typically larger than a muntin and are located between panels or lites. Their function is similar to a cross-rail.

Muntins are used at glass openings. It is a shorter horizontal or vertical member extending from a muntin bar to a stile, rail, or another muntin bar.
A few things to remember regarding stile and rail wood doors:
Standard stile & rail construction requires minimum stile dimensions to be 5″ if the door is over 1'9″ wide and 2-1/2″ if the door is under 1'9″ wide. Min 6″ stiles are required when machining for mortise locks. Min 5″ required for top rail, 8″ for bottom rail (non-rated doors) and 8-3/4″ (fire-rated doors).
Stile and rail doors use thicker veneer than standard flush wood doors, therefore, veneer availability is different.
Fire-rated stile and rail doors are available with many configurations available with up to a 90-minute label.
Creativity has no limit with the classic stile and rail door. Here are our standard door and sidelite patterns. Custom designs, however, are our specialty.