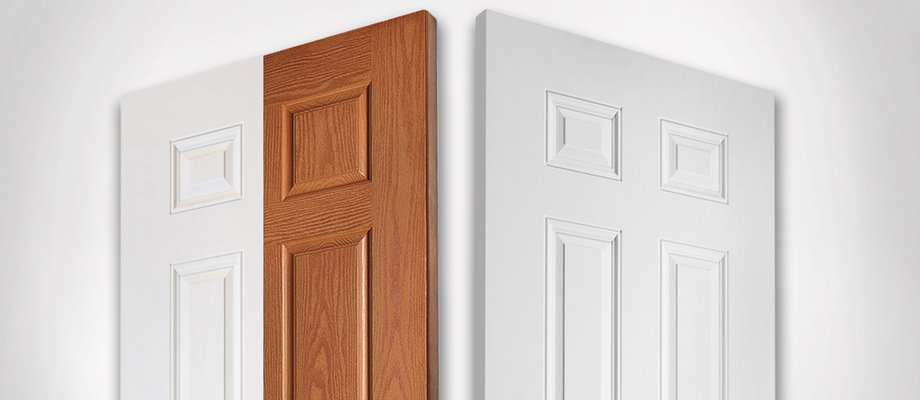 Find out About:

Door Slabs
Madero's exterior door systems are designed with either steel or fiberglass door slabs. Below we will outline the components and benefits of each of these door slab products.
Benefits of Steel Doors
Madero's Premium and SteelComp systems incorporate steel doors.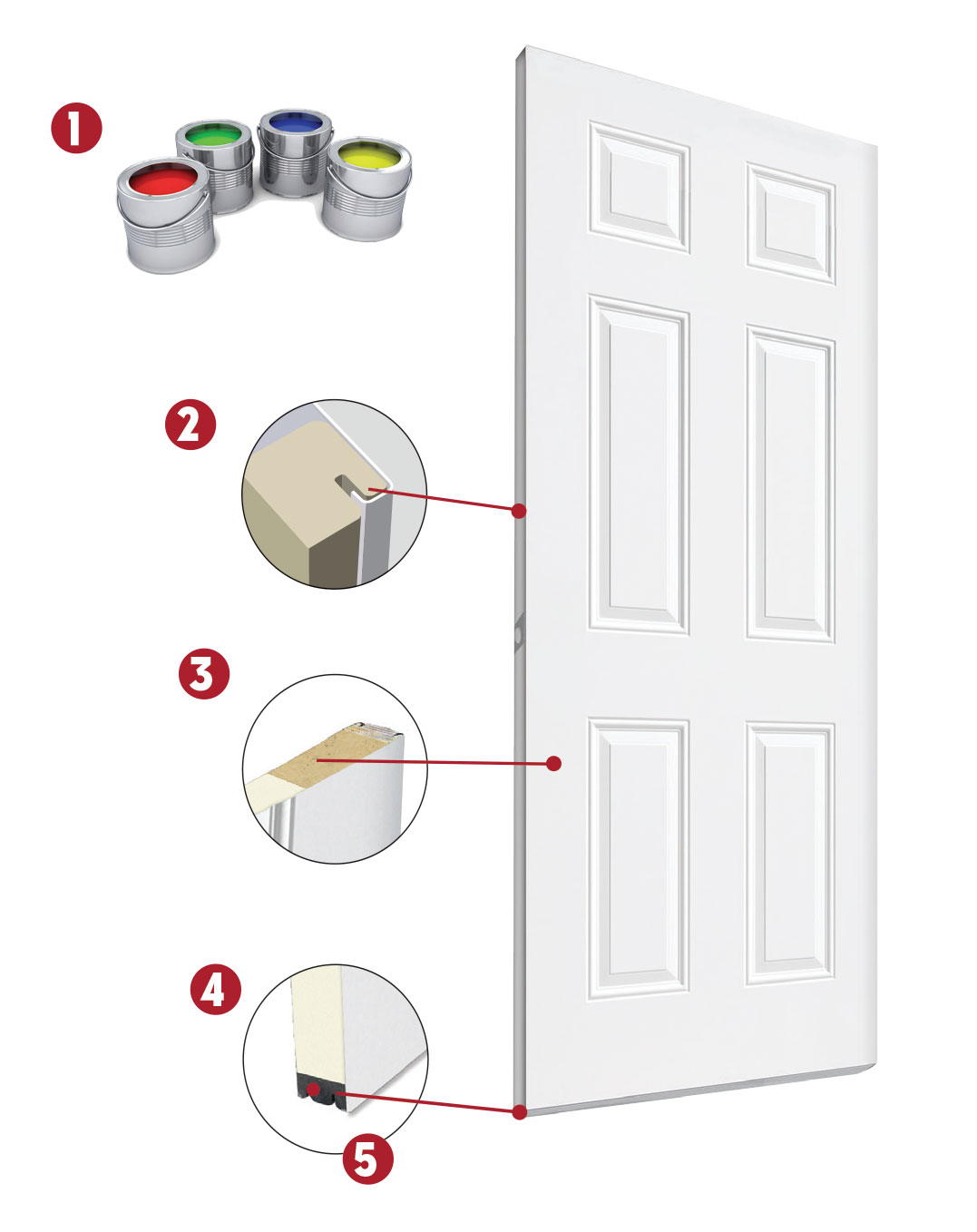 Finish with Ease
24 gauge bright white primed door skin with primed wood stiles and top rail provide ease of painting.

Durability
Door skins interlock with the stile, providing additional support to reduce delamination and stretching.

Strength and Security
10" wood lock block provides strength and security while accommodating residential hardware.

Energy Efficient
Filled with an insulating core of 100% CFC-free polyurethane foam, providing better energy ratings than a standard styrene core product.
Steel Door with Glass
Traditional Profile Insert
The most widely used design for window frames has been a traditional screw-in glass insert. Usually the lowest cost option, these frames provide excellent insulation and require little or no maintenance. Traditional profile frames do not require finishing, but can be painted to match your door colour.
The 24 gauge steel slab is cut out in manufacturing to accept the Evolve® insert and glass. The Evolve® insert has the highest quality standards in the industry today.
Contemporary Profile Insert
With its clean profile, this frame is the ideal choice for the modern look door with multiple cut-outs, such as the 3 lite or narrow lite. The profile brings the focus on your door glass selection. Frame can be painted or stained.
Modern Profile Insert
Spotlites doors incorporate a cut-out during manufacturing to accept modern profile spotlite inserts. Spotlite door glass frames are constructed in high performance Fibermate® moulded and textured, that work equally well for painting or staining. The textured grain is reminiscent of classic mid-century maple and birch furniture.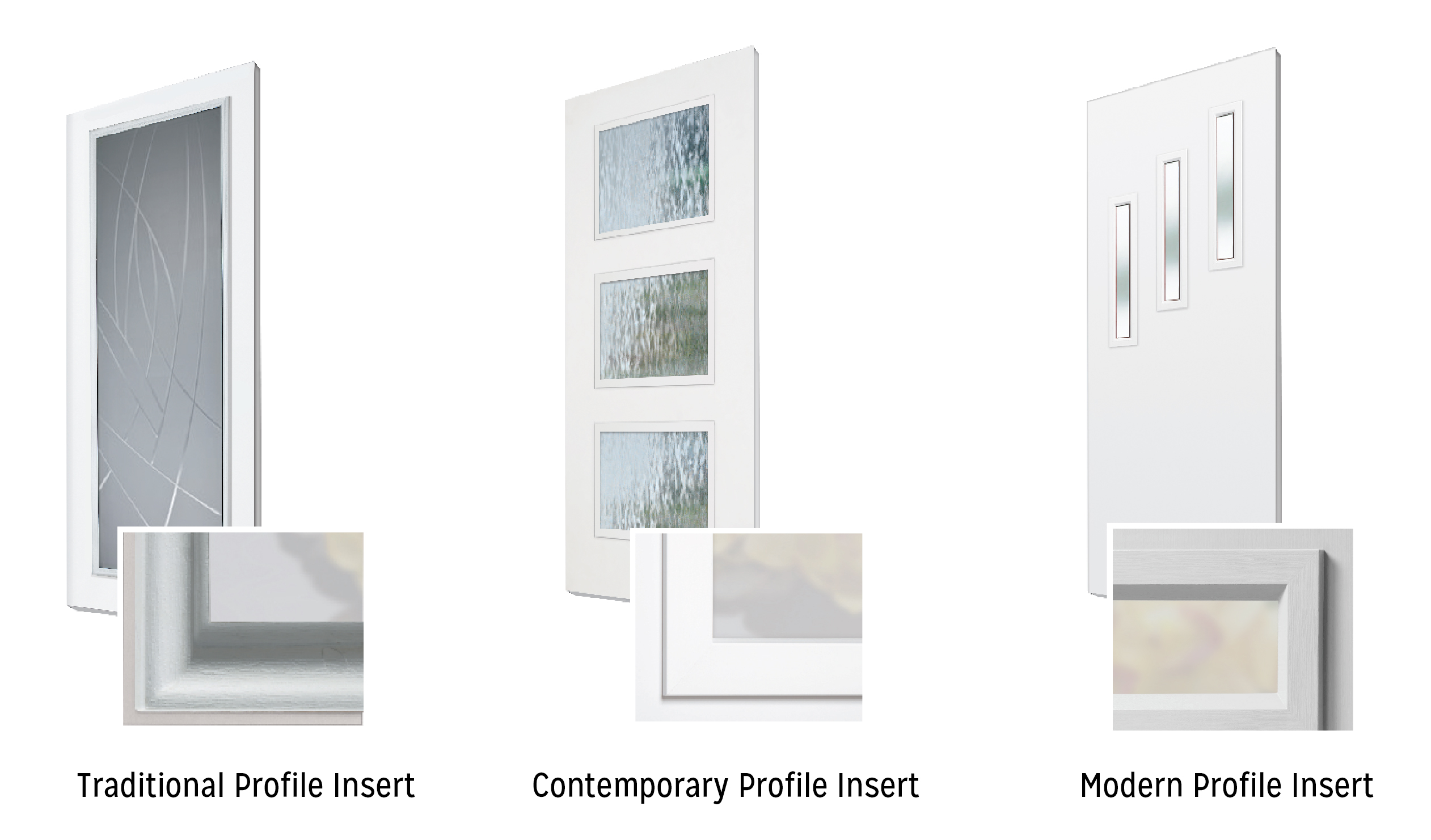 Benefits of Fiberglass Doors
Madero's fiberglass door systems are specifically designed to withstand the harsh Canadian climate.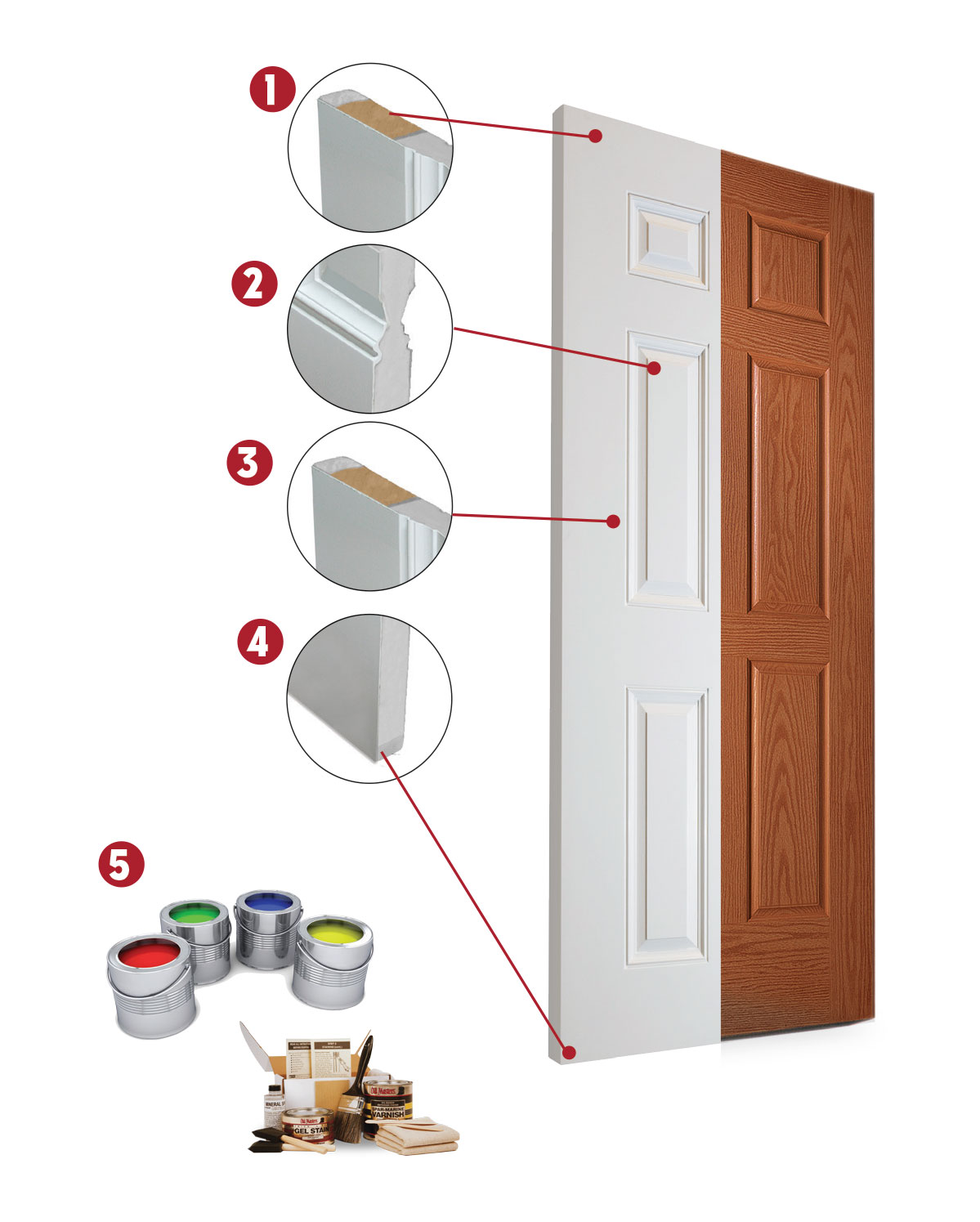 Exceptional Security
Our full length steel reinforced wood lock block offers exceptional security while allowing a range of hardware mounting options.

Energy Efficiency
Filled with an insulating core of 100% CFC-free polyurethane foam, providing an excellent R rating, while bonding the two door skins together.

Performance
Rigid structure prevents bowing and warping in extreme temperatures. The fiberglass skins are resistant to dents, dings, splintering, and corrosion.

Completely Waterproof
Our full length composite stiles and rails provide complete waterproofing for the door's insulation. These stiles will not splinter like wood or delaminate like steel.

Finishing
Smooth white pre-pigmented fiberglass doors have a warm white finish to match the composite frame and require no painting. The doors will accept an array of paint colours to match the decor of your home. Woodgrain textured fiberglass doors have a realistic rich appearance requiring paint or stain.
Fiberglass Door with Glass
Profile Inserts (Traditional, Modern and Contemporary – refer to steel insert information above)
A fiberglass slab is cut out in manufacturing to accept a traditional screw in glass insert.
Flush Glazed Designs
1/2, 3/4, Narrow & Full Lite
Flush glazed fiberglass slabs provide sleek lines to give the perception of a more enhanced viewing area. The pre-pigmented smooth white or oak woodgrain slab is consistent from door edge to glass. The slab is manufactured as a one piece open and beaded mould with glass installed during the assembly process.